The Perfect Space For Your Event
At 2400 sq ft, with high ceilings, lots of windows and bright lighting, it is well suited to corporate meetings, occupational training, Christmas parties, wedding receptions, Celebration of Life events, or any other type of event you can dream up. We can add pretty ceiling drapery with twinkle light kit, and window sheers with twinkle light kit, to add ambiance to any event. We offer full food and beverage service, with our in-house caterer FoodieLicious Kitchen. The catering kitchen is located immediately adjacent to the venue space.
Seated capacity is 120 at guest tables. Standing reception, or theatre style seating capacity is 150. The Riverside Conference Centre has its own entrance, washroom facilities, and HVAC system, which are completely separate from the hotel. There is plenty of free parking, immediately outside the venue entrance. The room rental price includes table and chair set up, table linens, china service with flatware and glassware for food and beverage service events, and clean up following your event. Also included, is hall liability insurance and bar liability insurance. This means, that unlike a stand alone venue, we've already paid for hall liability insurance and bar liability insurance, which saves you a lot of time, stress and money.
If you require a meeting room for a smaller group, we also have our Vintage Boardroom, with a seated capacity of 12.
Both The Riverside Conference Centre and the Vintage Boardroom have drop-down screens, which are included with your room rental. Other AV equipment and pricing is available upon request.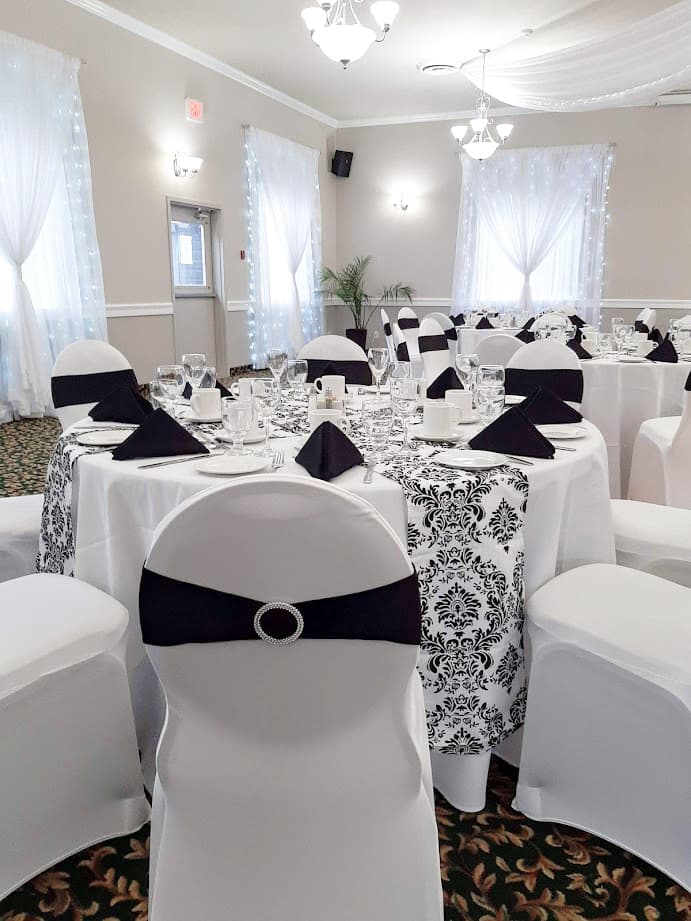 Our COVID-19 Safety Plan
Welcome to The Riverside Conference Centre at The Days Inn Penticton.
Indoor Events – June 15, 2021 Provincial Health Order Update
As a licensed Conference Centre, we are currently permitted to operate, strictly following the guidelines set out under the current Indoor Events Order on June 15, 2021.
At this time, indoor "social" gatherings and events are permitted, "with the maximum number of persons who can be accommodated safely at the event". Guests, organizers, presenters and staff must meet ALL conditions set out under the Indoor Events Order and a COVID-19 Safety Plan must be in place.
The health and safety of our guests, organizers, and staff is of utmost importance to us. We have ensured all current protocols are in place and updated immediately upon changes to the Provincial Health Order. We want to ensure that all our guests are comfortable in the space, confident in our attention to detail, and aware of what to expect ahead of time.
When you join us, you will notice some changes to the way things operate. In order for these changes to be successful, we'll need the cooperation of guests, organizers and presenters and an understanding that these protocols and procedures are in place to ensure everyone's safety.
Guidelines:
Effective August 21, 2021, masks are mandatory for all indoor public spaces, for everyone aged 12 and over.
We are currently operating with a maximum guest capacity of 50, with required social distancing measures in place (regular seated capacity is 120). Guests will be seated, to a maximum of 8 per round guest table, with a minimum of 2 meters (6 feet) between each guest table. Congregating is not permitted in the venue, or immediately outside the venue in the smoking area. We have adopted the following procedures to help reduce, or eliminate, the possibility of attendees congregating in groups:
Buffet-style food and self-serve beverage service is now available. Guests are required to remain 2 meters (6 feet) apart and to use hand sanitizer before accessing the food and beverage buffet stations.
Washroom facilities are limited to 1 person at a time, in each, the men's and women's washroom. Please stand 2 meters (6 feet) from the entrance to the washroom. There are markers placed on the floor at 2 meter intervals.
The client must assign a person, or persons, to be responsible to ensure that attendees do not congregate inside or immediately outside the venue, in order to reduce the possibility of the spread of Covid-19.
Masks / or / face coverings are required to be worn at all times, when you are not seated in the venue space, with 2 meters (6 feet) social distancing required, between seated guests.
Presenters are required to be 3 meters away from seated guests.
What we are doing to ensure proper hygiene in the venue:
Sanitization of all high-contact surfaces before and after events.
Washrooms will be closed for cleaning and sanitizing regularly while events are in progress.
Employees and staff practice regular handwashing, mask-wearing, and changing of disposable gloves.
Guests will be met at the front entrance by our staff. A list of WCB provided questions, regarding Covid-19 will be asked of all guests. Then a "pump" of hand sanitizer will be provided prior to guests entering the venue space.
Other unique safety features of this venue:
Private entrance to the venue, not shared with hotel guests.
Private washroom facilities, not accessible to hotel guests.
Separate HVAC system, not shared with the hotel.
Catering kitchen immediately adjacent to the venue. Private food and beverage service for your event.
This venue has 4 exterior doors, so continual cross ventilation can be achieved for your event.
Private patio area, so attendees can eat lunch on the patio if they wish.
Ready To Book?